VIRTUAL ACTIVATOR COURSE (CCU approved) - recorded
– Active & innovative rehab for improving strength, gait and balance for pre/post hip and knee surgery, hip and knee OA and post spinal stenosis surgery.
Cost: $ 49.99 

+ plus  receive professional pricing
for rehab/fitness professionals at 25% off on ACTIVATOR poles.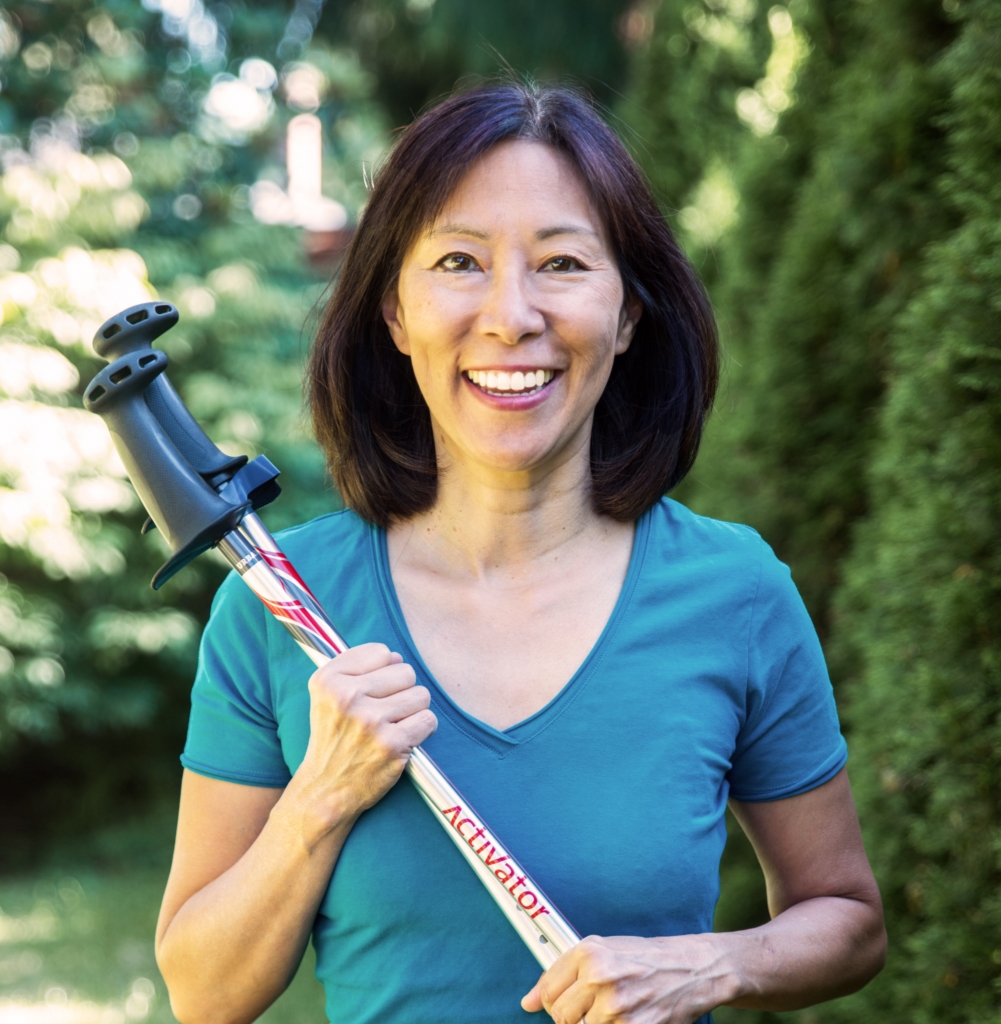 Mandy Shintani 
BSc (OT), MA (Gero)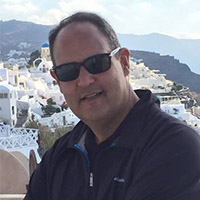 – Learn about the evidence-based ACTIVATOR® Program prescribed as best practices for orthopedic rehab.  Improved outcomes for your clients include: bilateral offloading, increasing walking tolerance, normalizing gait pattern, promoting upright posture and improving balance to help minimize the risk of falls.  Find out how to use the patented ACTIVATOR® poles as an effective option to delay or reduce the use of passive mobility devices such as canes, crutches and walkers (under the direction of a therapist).
Session includes a special presentation with guest speaker and renowned physical therapist, John Hisamoto. 
Course participants will:
Understand research based on 10 ACTIVATOR® pole studies & 300 studies on Nordic walking (PubMed).
Perform the ACTIVATOR® technique for off loading, balance and normalizing gait pattern.
Discover an effective alternative to traditional passive mobility devices and guidelines for use (canes, crutches and walkers) for orthopedic rehab and post spinal stenosis surgery.
Perform a series of dynamic exercises to use with your clients.  Learn the proper technique and guidelines for adapted seated, standing and gait exercises with poles for individual, telehealth and group exercise programs. 
Understand contraindications for use of poles for rehab. 
Learn how to include the Urban Poling/Nordic walking technique to increase intensity to support weight management and increase cardiovascular workouts for more active clients.
Differentiate your practice and services through this unique and new program in the USA and acquire new clients by leveraging this phenomenal form of fitness and active rehabilitation.  Learn how to increase your revenue through this effective program!  Professional/special pricing for poles available for rehab professionals. 
Presentation by John Hisamoto will include:
His Pro-Active Rehab Approach.
Importance of LE Biomechanics as part of patient evaluation.
Evidence based research in Pelvic/Hip motion.
Compare the upright (Japanese) vs. forward (European) Nordic walking styles: Which is best for your patient?
The importance of balance training in your rehab plan.
6. Improving "Functional" activities with post rehab patients.
Recorded Version
Presenter:  Mandy Shintani, reg. OT (BC) & gerontologist. Developer of the Activator poles.
Vancouver, BC Canada
Guest Speaker: John Hisamoto P.T./A.T., C. Florida, USA
Recognized by Physical Therapy Magazine as one of the top orthopedic/sport medicine therapists in the USA.
Cost: $ 49.99 

+ plus  receive professional pricing
for rehab/fitness professionals at 25% off on ACTIVATOR poles. 
*ACTIVATOR Certificate Course is 3 CCU approved by the following: Pro-Cert with Federation of State Board of Physical Therapy (FSBPT) and the American College of Sports Medicine.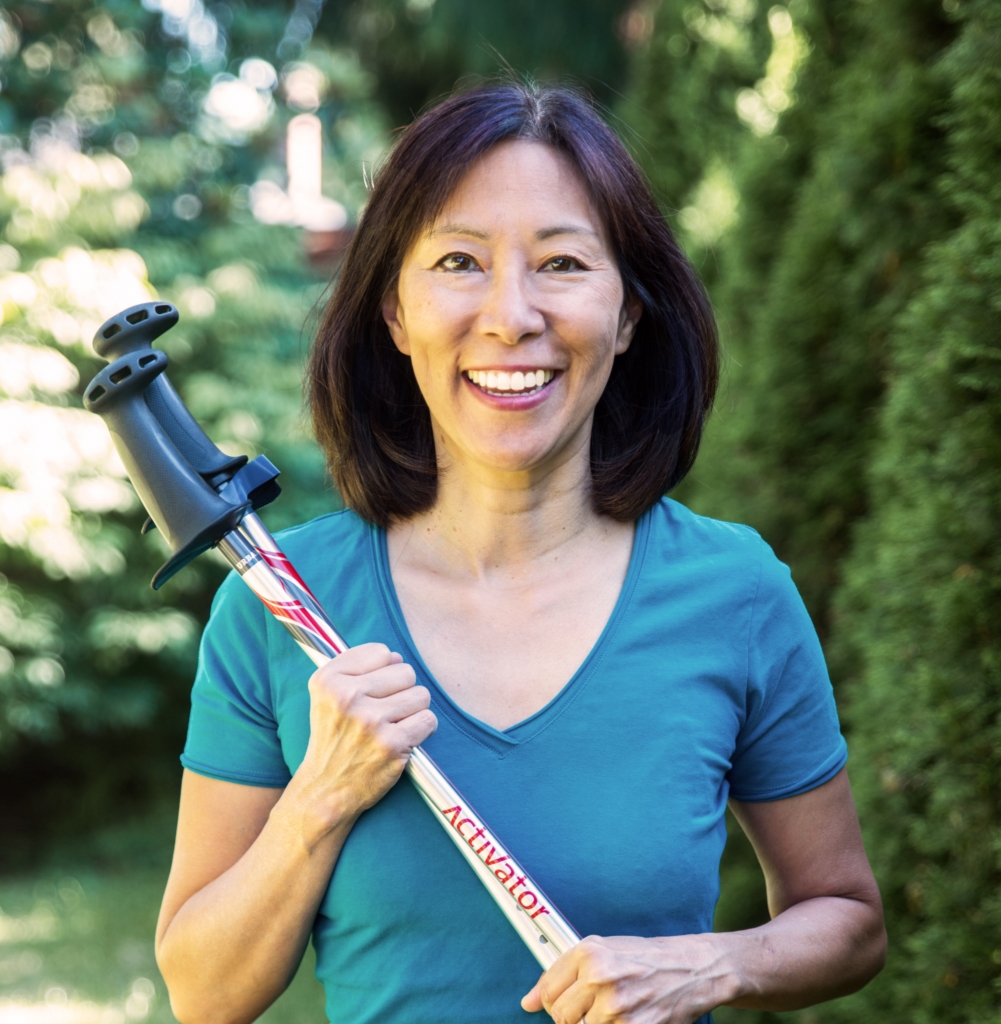 Mandy Shintani 
BSc (OT), MA (Gero)
Mandy Shintani, has been an occupational therapist for 30+ years and is a gerontologist.   Fifteen years ago, with her skills as an OT, she developed the evidence-based Activator Poles (patented) and technique specifically for rehabilitation, which are the focus of 10 current studies.  She is an international conference speaker on Nordic walking/urban poling for rehabilitation and fitness.  Research on the Activator poles have been the focus of international presentations/posters including; International Stroke Congress, Canadian  & UK National Physical Therapy Association Conference, International 200 years of Parkinson's Disease in Australia, ACPIN Neuro conference (UK) and twice at the National Fall Prevention conference (Canada)
 5,500+ therapists and wellness professionals in Canada, Australia, UK, Ireland and recently in the USA have completed the courses she developed for fitness and rehabilitation.  She has been featured numerous times in national media and was a finalist in the prestigious YWCA Women of Distinction Award for Innovation & Entrepreneurship.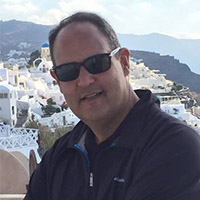 John Hisamoto, P.T./A.T.C.,is a Physical Therapist and Certified Athletic Trainer with over 30 years' experience in the field of rehabilitation. He has served as one of the Directors for the Union Memorial Sports Medicine centers in Baltimore, Maryland before accepting the position as Director of Rehabilitation at the University of South Florida in Tampa, Florida. He is the owner and Director of Pro-Active Physical Therapy in Tampa and has been active in sports medicine and orthopedic rehabilitation his entire career.
John was recognized by Physical Therapy Magazine as one of the top Orthopedic/Sports Medicine therapists in the country. He lectures extensively, national and internationally on the topics of sports medicine/orthopedics and the science of exercise.  He has traveled to over twenty five countries to share his insights regarding rehabilitation. John has served as the physical therapist/trainer for the All-American Rugby team and as Medical Director for USA Rugby's National Team, the Eagles. He continues to teach and treat the athletic population, including professional and amateur sports teams.